Heya guys! It's been a long time coming, but I've finally got an
Innocent + Twisted Alchemy
review for ya! This one features a zombie-themed, limited edition collection, called
Just Another Day
.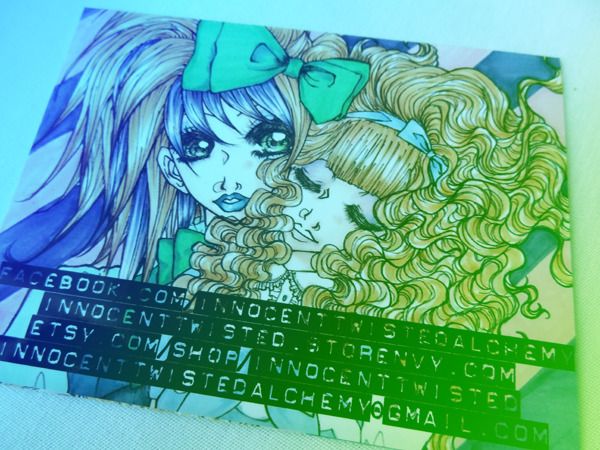 Linda Wan is the owner of Innocent + Twisted Alchemy, and one of the unique qualities about her products is that she creates all her designs herself! Her artwork is quite lovely and detailed, giving her indie company's image a very gothic lolita feel.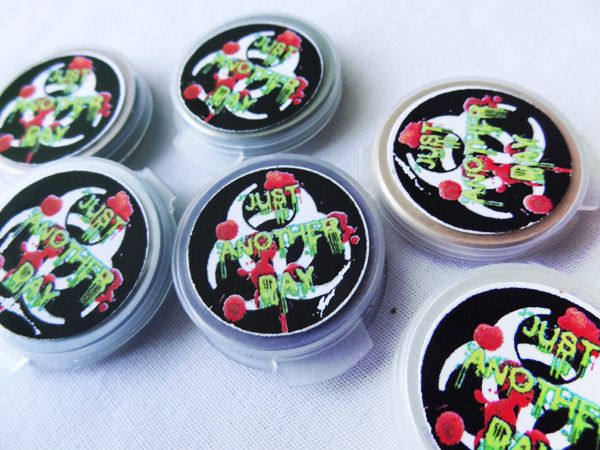 I ordered clamshell sizes of the collection to sample out the shades. While clamshell packaging isn't my favorite due to the potential of spillage and the eyeshadow poofing out every time you open them, they do contain a lot of product!
Now to what you've all be waiting for, swatches! Swatches were done on top of Detrivore Eyeshadow Primer.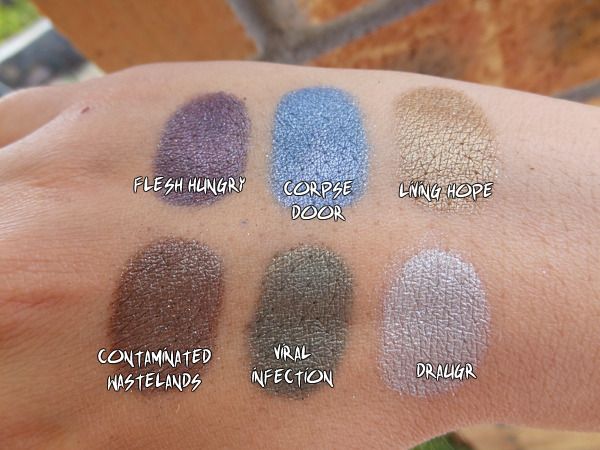 There's a total of 6 colors in this collection:
Flesh Hungry
- A shimmery mid-toned purple with blue sparkles. My favorite color in this collection! It's one of those purples that can be worn with anything.
Corpse Door
- This dusty blue shade looks more muted in the pot, but when blended on the skin's surface, the base color gets a little darker. It has purple sparkles.
Living Hope
- A light tan shade with pretty green shimmers throughout! It would make a great lid shade when paired with any of the other shades in this collection.
Contaminated Wastelands
- Taupey-brown with green shimmers. The bluish-green base of this color can leave a residual stain just a teensy bit because it's so pigmented.
Viral Infection
- A mid-toned green. It has contrasting red shimmers in it, but it's very subtle.
Draugr
- A frosty dirty white. I didn't really detect the green undertone that it was described to have, but it may just be my lighting.
Overall, I'm pretty impressed with the shades this collection has to offer, as they're the kind I tend to gravitate to the most. Draugr felt a little lacking and less complex that the other shades however, but despite that, can still be utilized as a highlight color.