So 5-6 weeks ago, I had my hair dyed a medium purple color while I was in Seoul. Since then, the color has faded to a purple-toned pink. I liked it and all, but I was anxious to go a darker purple shade to hide my roots. After a little bit of research, I decided on
Special Effect's Pimpin' Purple
, which I bought from
Amphigory
, an online store that specializes in hair dyes, wigs and cosmetics.
Special Effects dye is known for their wide range of intensely bright colors and staying power. It's a semi-permanent vegan dye that is best applied on pre-bleached hair to achieve bright colors and lasting results. What I love about these sort of dyes is that you can let it saturate in your hair for hours because they don't contain harsh chemicals like peroxide that you'd find in most box dyes. So basically, the longer you let the dye saturate your hair, the better your results!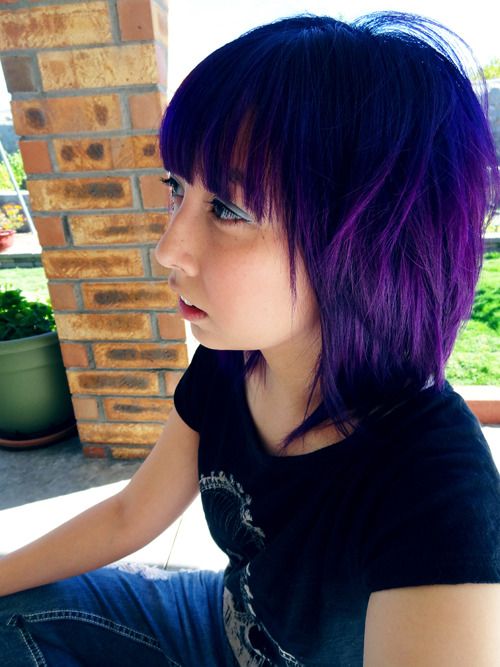 The resulting color I got was achieved by saturating my hair in dye for about 3 hours. I applied the dye on my dry hair from roots to tips with a tint brush. One thing I noticed with this dye was that it was thicker in consistency than I was accustomed to, making it a little difficult to spread throughout my hair. I ended up running dangerously low, so the bottom layer of my hair was dyed with a mixture of 2/3 Pimpin' Purple and 1/3 Special Effect's Virgin Rose, a rich fuchsia color. Virgin Rose was a bit runnier, which made it easier to apply the dye mixture to the rest of my hair. I would definitely recommend buying 2 bottles of Pimpin' Purple if you have medium-thick, shoulder length hair like mine!
Next, I popped on a disposable clear plastic hair cap, then began to heat process my hair for an hour with the
Gold 'n Hot Conditioning Heat Cap
. What this contraption does is it warms your hair, opening up the hair follicles, and therefore allowing more of the dye's pigment to penetrate into the hair shaft. Heating caps are generally used for deep conditioning in the same manner, but I find it to be a handy alternative to evenly process the dye over using a hair dryer. The only thing I don't like about this product is that it doesn't get nearly as hot as I'd like. Unless you deep condition or dye your hair with vegetable dyes like Special Effects, Manic Panic, etc. regularly, it's not really worth the investment.
Anyway, after an hour I removed the heating cap, ate dinner, did other stuff, then used the heating cap again for another 40 minutes or so. After that, I let my hair cool, then washed off the dye (I wore gloves... trust me, do this or you'll have bloody-pink hands for a day or two). My bathtub stained pink in places where I wasn't quick enough to rinse away the dye runoff, but it was fairly easy to remove with a little elbow grease and some Ajax cleaner.
I've been a devout Manic Panic user in the past, but I have to say I really like the results I got with Special Effects! I'll update on how well the color holds over the next few weeks. ^-^/