I've gotten quite of few new polishes that I've worn over the past few weeks and wanted to share! I've been going through a bit of a glitter topcoat phase.
The first is
Innisfree 84
with
Sinful Color's Pearl Harbor
. I'm sad about how the photo sorta sucks, but it was a really awesome combination!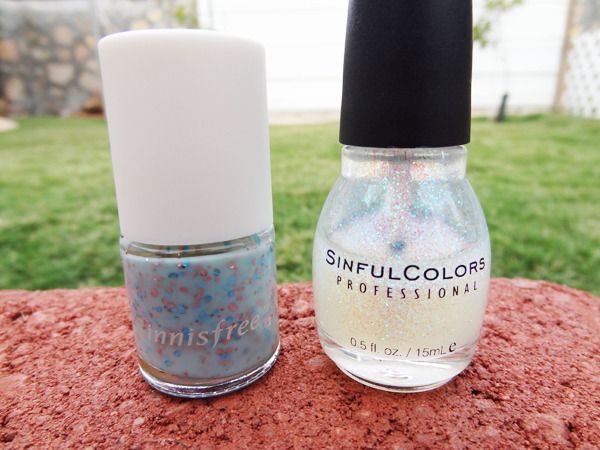 Next up, I wore another blue mani, this time with A England's Tristam, China Glaze Fairy Dust and China Glaze Techno! Techno was applied only at the tips, to give a sort of holo-glitter gradient.
I never get tired of blue manis, apparently. Last week, I wore
Revlon's Royal
with
Rainbow Polish's Monarch
. I LOVE the look of dark jellies!
And last but not least, this week's mani, featuring
China Glaze's Immortal
from their 2012 Halloween collection,
Milani Pink Hottie
on the accent nail, and Rainbow Honey's Pinkie Promise on top.
I don't think my glitter topcoat kick is going to phase out anytime soon.