Yay, here's my FOTD I did yesterday for NTMS's weekly challenge. This week's theme is "Mellow Yellow".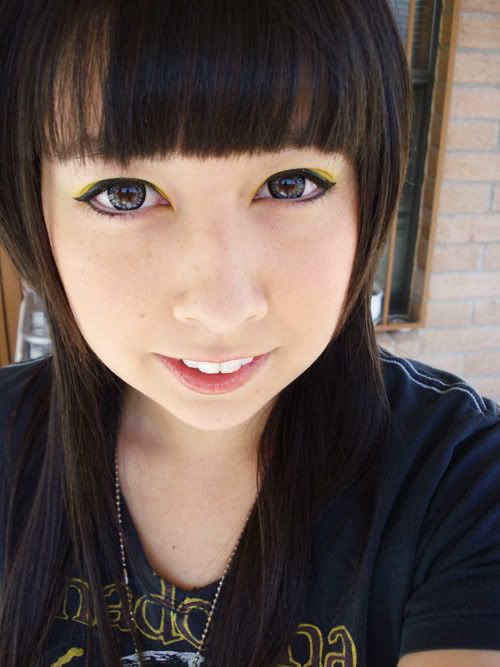 EYES
-
Concrete Mineral's Electric Eye Primer
to prime eyes
-
NYX Jumbo Eye Pencil
in
Milk
applied lightly as a base
-
NYX
single eyeshadow in
Yellow Funk
applied all over lid
-
Sugarpill Buttercupcake
to brighten the yellow color a little more
-
Physician's Formula
Eye Booster liquid eyeliner in
Ultra Black
to line upper and lower lashes
-
Mark.
No Place To Run Longwear Eye Liner in
White On
to wetline
- Princess Mimi circle lenses in Sesame Gray
LIPS
- EOS lip balm and a touch of Darling Girl's The Pumpkin King Color Rich Lip Balm
FACE
- Covergirl's Natureluxe foundation in Sandstone (325)
- MAC Mineralize Blush in Warmth of Coral
I love wearing yellow, although it can be a bit tricky to make it pop sometimes without a good base (yellow likes to get dark on me, I have no idea why). My liner's a bit thicker than I wanted it to be, thus leaving little available lid space to really see the yellowness going on, but I still really liked this look. ^^