So a few days ago I got some pretty new hair extensions, this time from
I Kick Shins
, an online shop that specializes in custom hairpieces and extensions in pretty much any color imaginable. Because I've grown my hair pretty damn long over the past few years and kept it dyed and processed-free, I'm always looking for ways to liven up my hair without damaging it.
Anyway, I ordered a pair of 14" tri-colored extensions in green, blond and purple, which totaled to $19 including shipping. Honestly, I felt the shipping of $4 was a teensy bit high, but I Kick Shins delivered my package insanely quickly, within 3 business days! My extensions arrived in a nifty pink-colored bubble mailer which also contained their business card, my receipt and a hand-written thank you note.
I had a 'durr' moment and didn't take photos of the packaging, but here's plenty about the extensions themselves. They are clip-on extensions that you set onto the base of your hair and clip shut. The clips themselves are sturdy and the hair piece is securely sewn on. The extensions are made from human hair, and can be washed and heat-styled however you like!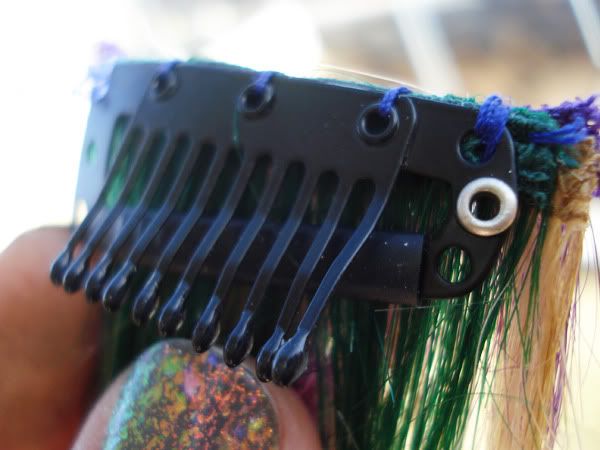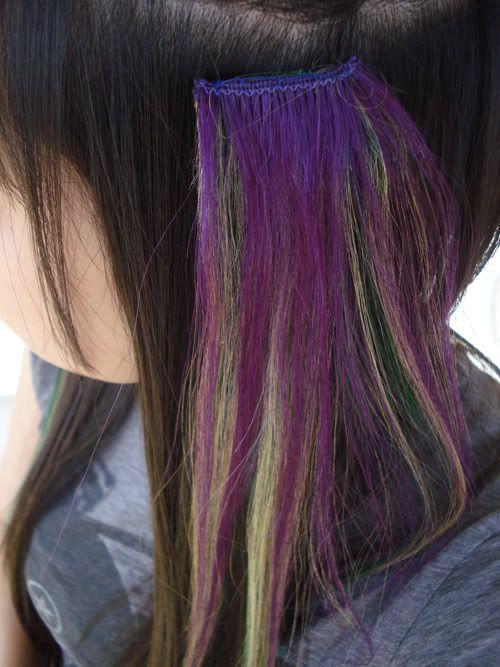 I prefer clipping the extensions right under the shorter layers of my hair. They are a few inches shorter than the longest layers of my hair, but are the same length of my hair towards the front of my face. Overall, I really like the color combination I chose, as it blends pretty nicely in dark brown hair.
In the future I may be interested in making a custom order, which they readily accept. A purple/magenta/yellow-orange combo is what I'm considering next, haha.