Persephone Minerals has to be one of my most favorite indie makeup companies as of late. Victoria, the owner, really knows how to create some very unique and wearable duochromes! If you'd like to see swatches of some of her most popular duochromes, I've got some here. For now, this review covers duochromes and other awesome shades from various Sailor Senshi collections and my overall experience ordering from this company.
I ordered two full-sized pots,
Golden Haelo
and
Bicurious
(I love the hell out of these colors), and a 10-sample set of Sailor Senshi colors of my choice. I also received a full-sized pot of
Mars Crystal Power
free with my purchase, as I made my order December 21, 2011, during a Christmas sale. My order arrived January 23, 2012 in a bubble mailer, and everything was neatly wrapped in black tissue paper. I also got 4 freebie samples with my order, woot! Although my order took a little longer than the anticipated TAT, Victoria kept her customers updated about the status of orders on the Persephone Minerals Facebook page, so I wasn't concerned, it was a very busy time of the year!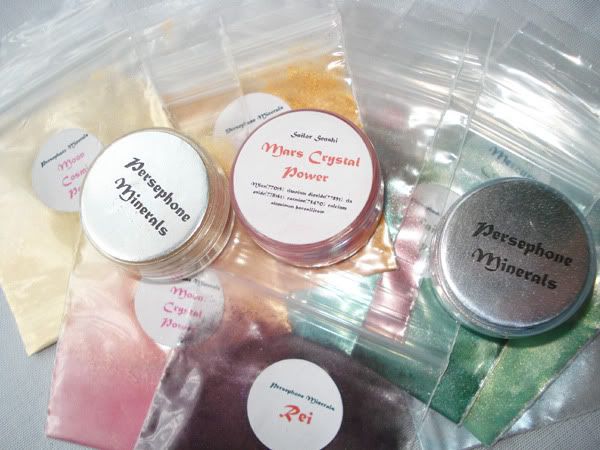 Full-sized pots (3 gram jars) arrived shrink-wrapped and without shifters, meaning they're packed nice and full to the rim. Sample baggies contain 1/8th teaspoon of eyeshadow; if you prefer to buy samples in jars, they're available that way as well.
Anywhoo, here's what you've been waiting for, swatches! The shadows were applied dry on my hand on top of Detrivore Eye Shadow Primer.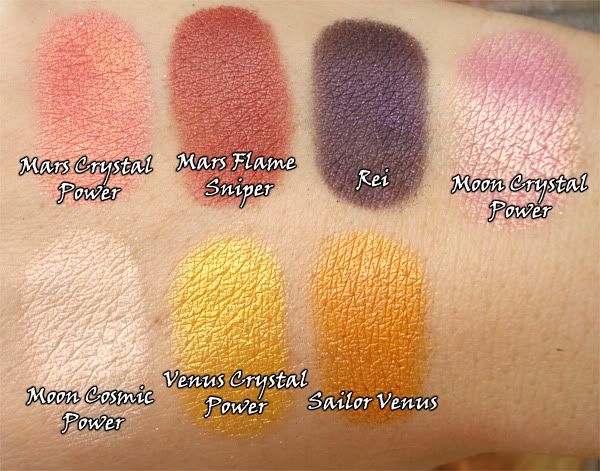 Mars Crystal Power
: The signature duochrome from the Sailor Senshi Mars collection. If' there's one must have shadow to try from Persephone Minerals, I'd say it's this one! Red with a strong gold shift.
Mars Flame Sniper
: Super glittery red, my swatch just sucks and doesn't show the awesomeness of this shade. It blends a little sheer without a base but has tons of red, orange and yellow glitter.
Rei
: Inspired by Rei's (Sailor Mars) long flowing black hair. A smoky black with a plethora of violet sparkles.
Moon Crystal Power
: Pretty duochrome-y pink that shifts gold.
Moon Cosmic Power
: This shade is all kinds of awesome. It's pale gold with a pink shift and lots of lovely sparklies.
Venus Crystal Power
: A sunshiny-orange duochrome that shifts from orange to gold, and I can see subtle pink sparkle throughout.
Sailor Venus
: This bright tangerine orange is a perfect representation of Sailor V! My swatch doesn't wanna show it, but it possesses contrasting aqua blue glitter.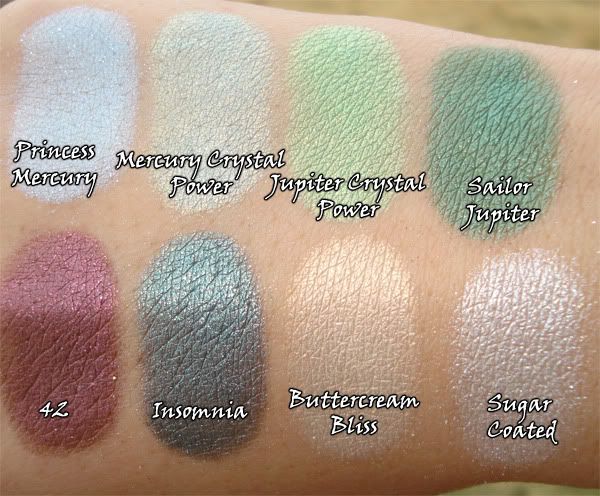 Princess Mercury
: Pale baby blue with an icy shimmer. A wearable blue for someone like myself who shies away from blues.
Mercury Crystal Power
: Mmm, pretty blue duochrome. A light blue that shifts gold… looks even greenish in the right light.
Jupiter Crystal Power
: Another duochrome shifting from bright green to gold. Very lovely.
Sailor Jupiter
: This medium green shade has flashes of pink glitter that I'm afraid my camera just wouldn't capture.
42
: Shimmery burgundy. I've been really into burgundy/wine shades these days, as they pair very nicely with golds.
Insomnia
: This color morphs! It's like it's a teal that shifts to an almost gunmetal color if the golden shimmers in it are reflecting softer, cool-toned light.
Buttercream Bliss
: Mmm, great lid and highlight shade. I find it super versatile like Golden Haelo!
Sugar Coated
: This one's from the Holiday 2011 collection! An essential white with multicolor sparkle.
Yep, I wanna order more already!