And because I've enjoyed seeing what other people have hauled, I thought I'd share mine. I haven't had a lot of time to play with my new goodies, but these have all been products I've been wanting to try out for a looong time. I think I'm most excited about finally getting my first real and AUTHENTIC Benefit blush, after two attempts at buying some on Evilbay for cheap and discovering the shit I bought were fake. :/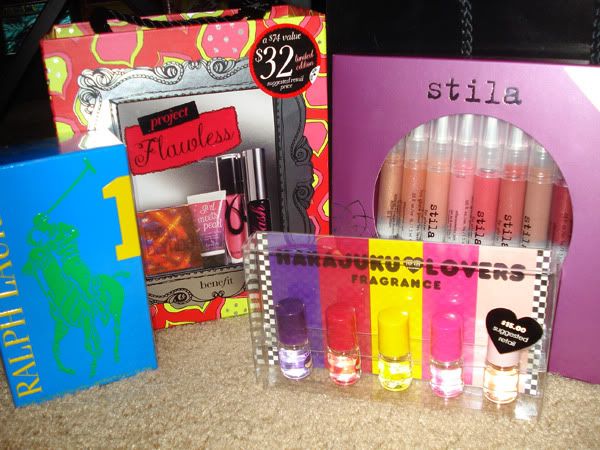 I got:
Stila Lip Glaze Set
Harajuku Lover's Fragrance Wicked Style Mini Rollerball Coffret
Benefit Project Flawless
(comes with Bella Bomba blush, Girl Meets Pearl illuminator, Bad Gal Lash mascara and a Ultra Shines lipgloss)
Ralph Lauren Big Pony Collection 1 eau de toilette
(for my boyfriend)
I started using a Stila lip glaze in Apricot from the set and I'm in love with how awesome it smells, but it's also really sticky! It's so windy outside lately that there's just no way I'd be wearing this stuff outdoors unless I want my hair to turn into a nappy sticky mess on my face. However, I found that it's a great lip conditioner when I apply it before I go to bed.
The Harajuku rollerball perfumes are tiiiny! I mean, I knew they'd be small, but I'm still a little bit surprised. They're cute though, and this way I can try out the scents and be sure I won't get horrible headaches from them if I decide I want to commit to a full size.
Anyone else do some F&F hauling? I'd love to see what you got, and if you enjoyed your new products!