Hey guys! The weather's been stupid around here lately and I've been wanting to swatch spam all the stuff I've gotten. For now though, I'd like to share with you a FOTD I did earlier on Tuesday where I'm wearing my favorite dark blue circle lenses, Neo Celeb Blue. This is my typical pretty and "done up" look that I do on occasion when I have more than 20 minutes to do my makeup.
I really love Neo Celeb Blue lenses because they're the most comfortable ones I've tried so far. The enlargement effect is minimal, but they really help to define my pupils and make my eyes look brighter and a little larger without looking "fake". The blue is really subtle against my dark brown eyes, but in brighter lighting my eyes look dark blue on the outer rim that fades to a dark brown towards the middle, which is a really lovely effect!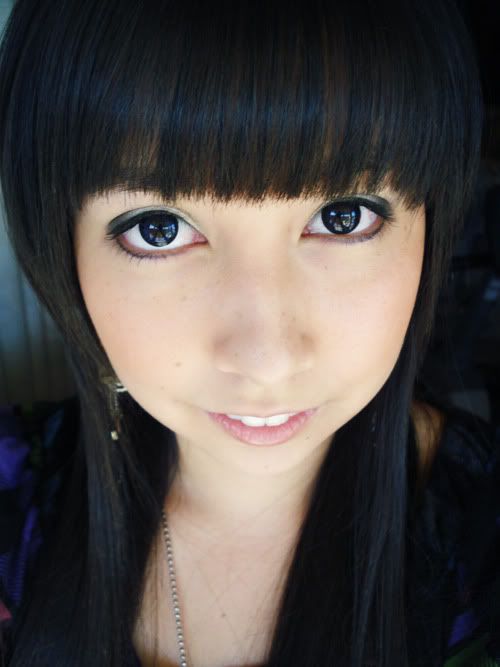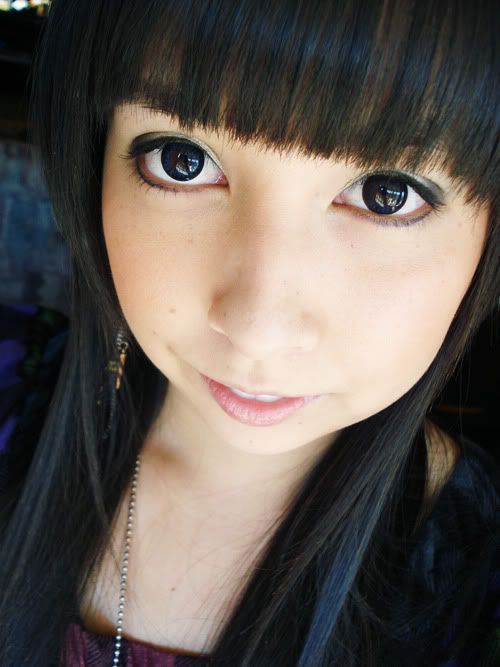 EYES
-
Concrete Mineral's Electric Eye Primer
to prime eyes
-
NYX Jumbo Eye Pencil
in
Milk
applied lightly as a base
-
Silvery-taupe shade
from Wet 'n
Wild's Night Elf Palette
on inner 2/3rd of lids
-
NYX Gunmetal
on outer 3rd of lid
- A little bit of
Aromaleigh Zanna
to darken outer edge and crease (fack I love this color! It's a deep plum shade with a tinge of brown to it)
-
Aromaleigh Glow
lightly brushed as a highlight and over the taupe shade to warm the colors up a little
-
Physician's Formula Shimmer Strips Black Gel liner
(from the Green Eyes trio) to line upper lid
-
Urban Decay Zero
Eyeshadow applied with a damp liner brush on lower eyelid
LIPS
- Carmex (I always forget to wear a nice lip color D;)
FACE
-
Covergirl's Natureluxe
foundation in
Sandstone
(325)
-
MAC Mineralize Blush
in
Warmth of Coral
(this was a spontaneous buy and my first MAC blush. I'm in love with it!)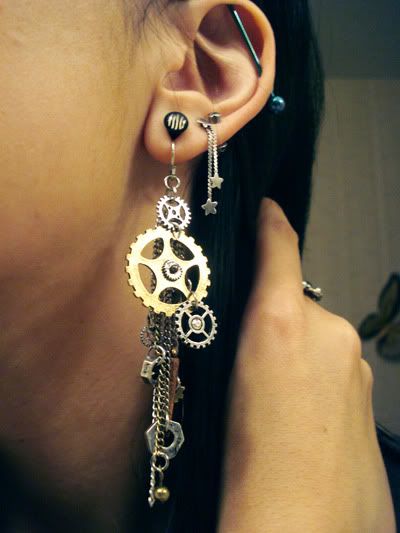 My earrings! Forgot I took a pic of them for funsies, so I thought I'd share. Love the steampunk ones... I actually got them from Claire's.
Wish I had taken better pictures of my eye makeup to show the crease better, but unless I'm looking sideways or down that part of my eye is hidden by eyelids. e_e Do you like it?