So I'm been totally thrilled that Aromaleigh's back, and with two brand spankin' new collections to kick off their re-launch as well! I nabbed a sample set of the
Starry Night collection
to share with you.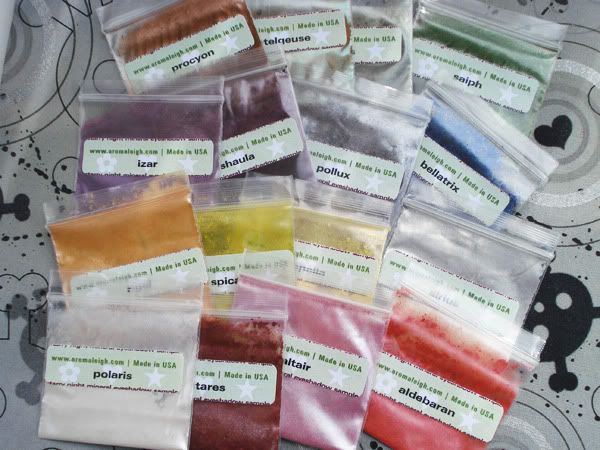 There's a number of great improvements Aromaleigh v2.0 has to offer, and the most noticeable one for me was the vast improvement on the sample sizes! Aromaleigh now offers sample baggies that contain 1/8 tsp of product--that's double the amount they used to offer. And that means I don't have to skimp out on the size of my swatches, haha. I'm thrilled by this change as I just can't afford to buy full-sizes of all my favorite shades. Shipping price has also decreased to a $2.99 flat rate (domestic). I'm not familiar in the changes involved with international shipping rates, but you can find information on that
here
.
One minor con, however: The sample baggies I got for this collection are smaller than they used to be, which is a shame because Aromaleigh used to have the perfect sample baggie size, imo. Double the product in a smaller bag = spillage while I swatched because I'm a clumsy mofo. :<
EDIT
: Woohoo! I just learned that the smaller sample baggies that I got here are apparently temporary, and the original-sized ones are still being used.
Let's get this swatch-fest under way! All swatches were done on NYX Eyeshadow Base in the Skin Tone shade, and photos were taken outdoors under somewhat overcast skies.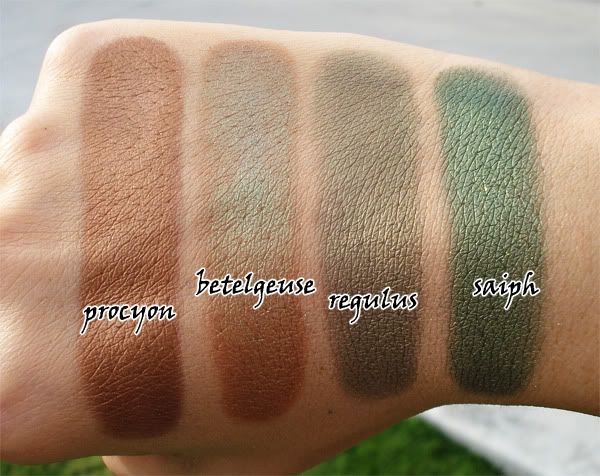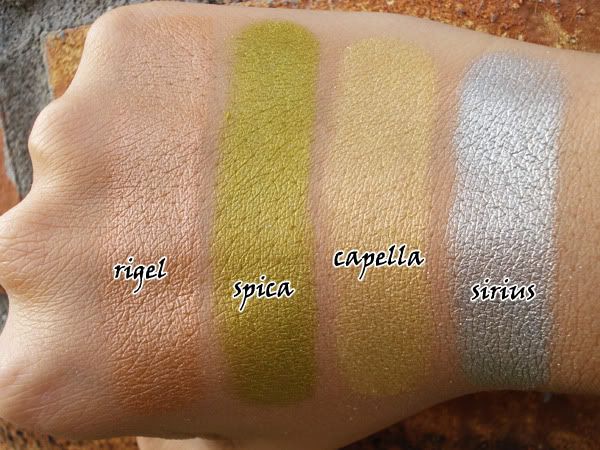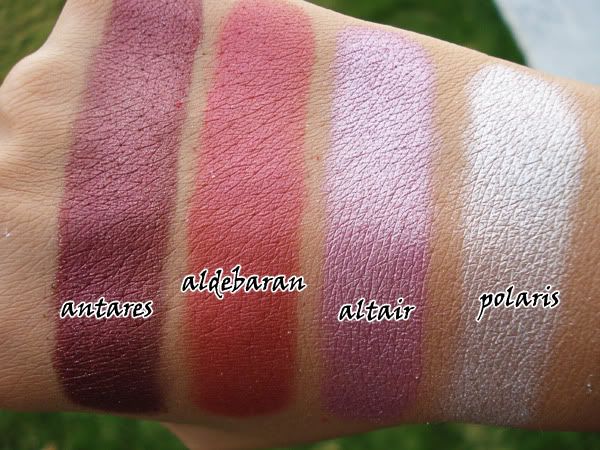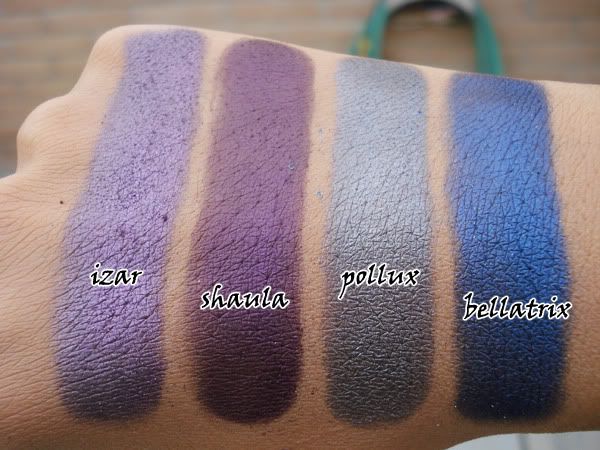 My favorite colors in this collection are
Saiph
,
Spica
,
Capella
(ohgod love this color I need infinite fullsizes),
Antares
,
Shaula
and
Pullux
.
Bellatrix
is beautiful and also the only blue in this collection, but not a color I'd wear often. The only color I had a problem swatching was
Rigel
, due to its somewhat sheer consistency. I think it'd be great to blend out an orange look, though!