Hey guys, it's been a while! A really, really long while. But never fear, I'm still around, just busy with school and life and all its related and unexpected weirdness!
While I was MIA, I've let my curiosity get the best of me and bought a small array of eyeshadows from
Altered Ego Cosmetics
on Etsy. What I really like about their eyeshadows is that their full sized shadows come in 3 gram jars, making them even more affordable than getting the 5 gram jars that are generally the standard size for many indie companies. Anyway, I went ahead and ordered their 5 for $10 deal and got the colors Beetle, Mylar, Lord Gold, Diesel and Bullet.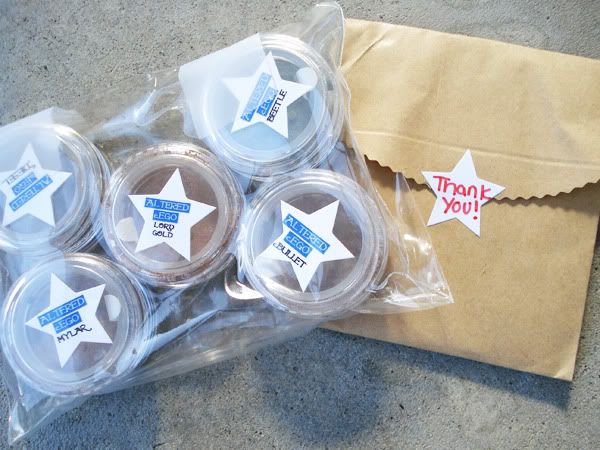 Everything arrived well packaged! I also received a little thank you packet that housed my receipt and a few gifts (a sticker and two samples, Dark Eden and Aisling). I really like the star shaped stickers on each jar, they're simple yet eye-catching to me. However, the jars do not have any sticker on them listing the ingredients. Fortunately, I could easily look up the ingredients of each shadow on their listings at their store, so no biggie there!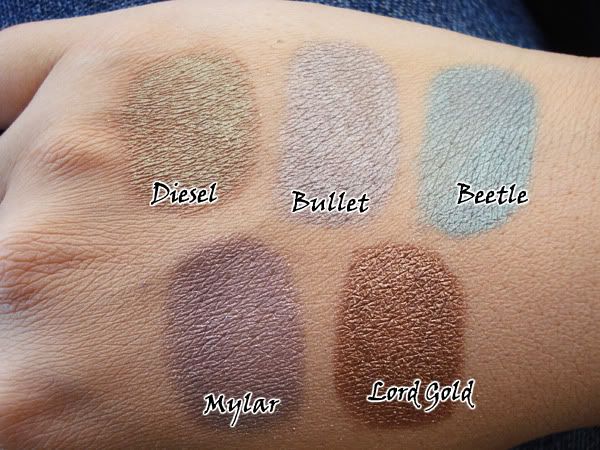 Swatches were done without a base and the photo taken in the shade. I think there's a little bit of a glare washing out the top colors a bit, but it actually helped show the interesting green morph in

Diesel

.

Mylar

and

Bullet

look pretty similar to me, actually. Mylar's just got more of a lavender/pinkish tint to it than Bullet, which is a more neutral silvery shade.

Beetle

is just a lovely wearable blue/aqua that's wearable for me, as I'm generally shy of bolder blues.

Lord Gold

's got the most color payoff on the first swipe, but really all the colors are very buildable and I've had no problems wearing them. These shades have a TON of different color shimmer to 'em despite the photo, but that's the drawback to taking pictures on a cloudy day. :<

Yep yep, pretty neutral shade pickings, but I find these colors essential to my makeup routine these days where I haven't had a lot of time to experiment with a lot of color.