Yo guys, have you heard?
Linnaeus Cosmetics
has brand new changes afoot! To promote the events leading up to their brand spankin' new website's launch on
July 9th
, Marin of Linnaeus Cosmetics sent me three eyeshadow samples of an unreleased collection to reveal. What a tease, right? :D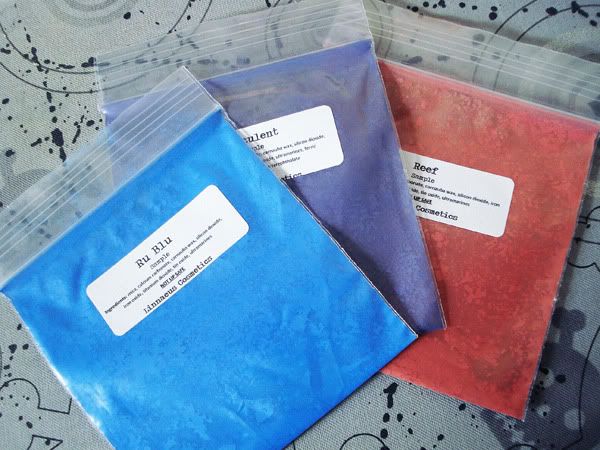 Swatches were done on NYX natural-colored primer and the photo was taken in the shade: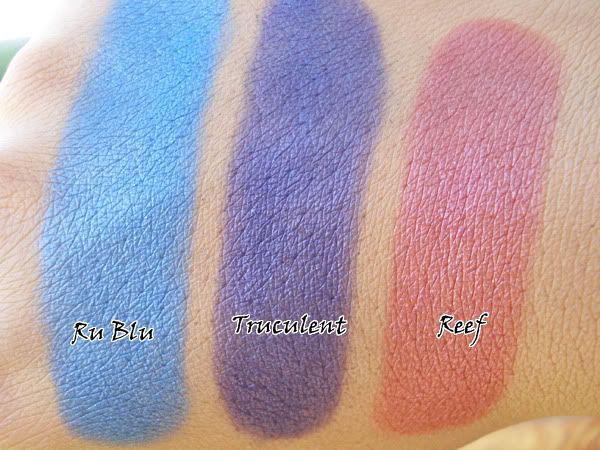 Tru blu
: Shimmery blue! Pigmented blues like this one really intimidate me as an eyeshadow, but it's very lovely if you're not afraid of rocking blues.
Truculent
: Pinky-violet and blue sparks contrast subtly with this shimmery mid-toned purple.
Reef
: Coraly-pink with glints of pink and silver.
I've already reviewed Linnaeus Cosmetics before, and my opinions of the brand and the products remain constant. These eyeshadows wear and blend wonderfully.
Events
So what are these festivities you hear of? These events change daily and are going on RIGHT NOW, so be sure to check out LC on their
blog
and like 'em on Facebook to participate!
Here's what'll be going on
(I've paraphrased the events announced on their blog):
Monday July 4th
: 4 people will be randomly drawn who 'like' Linnaeus Cosmetics on Facebook to win 5 samples of their choosing!
Tuesday July 5th
: Marin will tweet about the site launch on Twitter. She'll randomly select a few people who retweeted the message to receive some samples!
Wednesday July 6th
: Want a LC collection inspired by your favorite wild animal? Post a photo of it on their Facebook page, and a selected winner will receive the collection for free!
Thursday July 7th
: Want to see an awesome LC collection inspired by your pet? Post a picture of your pet on their Facebook page and write a few sentences about him/her that you'd like to share. One pet will be chosen and the winner will receive the limited-edition collection for free.
Friday July 8th
: 3 people will be drawn at random who have "liked" LC on Facebook to receive a collection of their choice!
Saturday July 9th
: Website launch! Special sales will be available throughout the month, just check out
this post
for the specifics!
Disclaimer: The above products were sent to me for promotional purposes only. I am not paid or compensated in any other way for writing this review. However, as always, my reviews are my own honest opinion and are based on my personal experience with the brand.