I felt like paying special attention today to some of my sadly neglected baked eyeshadows. I really like how baked shadows become almost metallic in appearance when applied wet. However, since I rarely apply my eyeshadows wet, I hardly reach for them these days. Anyway, I think I've only stumbled across one blog that's reviewed these particular baked eyeshadows, so I thought I'd take a crack at it myself.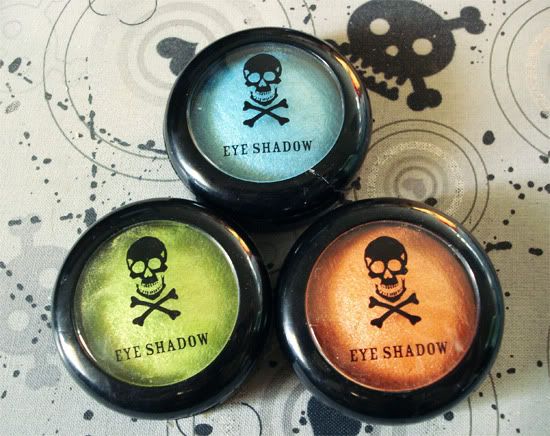 I've have these Hot Topic baked eyeshadows for some time now. I've seen them sold from around 3 to 6 bucks in stores, and for the price you get a good quality product save for the fragile plastic packaging. Pretty much the only thing that really irks me about them is I have no idea what they're named... I had to go to the Hot Topic website to check, and even then I'm not 100% sure if I identified them correctly.

Swatches were applied DRY on top of NYX natural-colored eye primer and photos taken in the shade: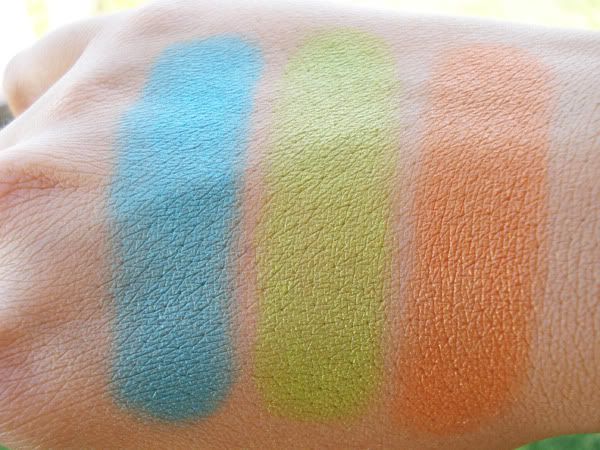 From left to right:

Teal

,

Electric Green

and

Copper

(well, that's the best I could guess, anyway! D:)

They're a little more pigmented than my Hard Candy baked eyeshadows, but are somewhat more powdery. I bet if they were marketed under the Hard Candy name, they'd be a bit more well-known and popular. Regardless, these eyehsadows are a hit from Hot Topic's cosmetic line and worth trying out!