Heya! So, today I'd like to share with you my experiences with an indie mineral makeup company, Concrete Minerals. Emily, the founder, first started the company over at Etsy (where you can still find her products), but as of recently it's expanded to its own
personal website
.
They're a pretty well established company now and I've had experiences ordering from both store locations online, and while I don't have specific dates for when I ordered and received my package from their Etsy store back in January, it arrived promptly with no delay. My experience ordering from their newly established website was a little different, however. The confirmation E-mail I automatically received after placing my order on June 24th states that orders take up to 3 days to be processed, and it was marked as shipped on June 30th. Now I'm the last person to be nitpicky over minor delays, but ultimately, my package didn't reach me until July 11th. I sent an inquiry about my package whereabouts on July 8th, and got a response from Emily on the 11th, explaining the delay (it was USPS related, the package may have accidentally been left behind). I had been checking the tracking number of the package, and it was unusual that USPS wasn't updating when it had passed checkpoints until the day I was supposed to receive it. Although Emily did not immediately respond to me, she was very polite and supportive and apologized for the delay. She replied back the same day after my next e-mail back.
Anywho! I ordered the Blogger Love Special that offers bloggers four 5-gram jars filled with ¼ tsp. of product each to try out and review. It has a retail price of $10, but for reviewers, they can buy this promotional offer for $5. I also bought their Electric Eye Primer for $11, as a backup for a tin I already have that I'm running low on. On to photos!


I really admire how professionally packaged the products are! Everything was neatly wrapped in bright pink tissue paper with my items neatly segregated in plastic baggies. With my order, I also received a free sample jar of eyeshadow, a thank you card and a very informative, professionally designed flyer that offers tips on how to apply mineral makeup. I'm really happy to see they've continued this practice since the last time I ordered a few samples from them back in January.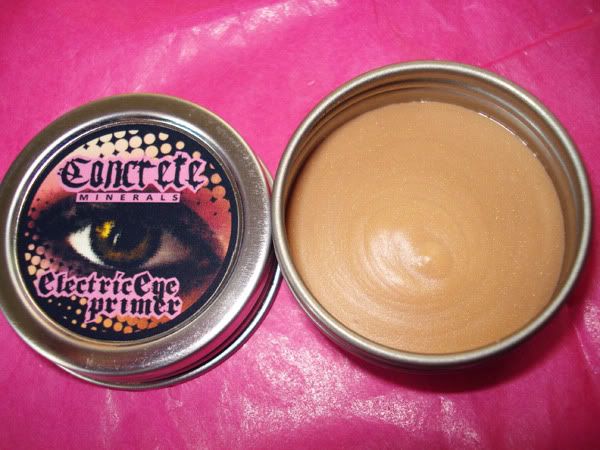 I'd like to first talk about one of my actual HG products, Concrete Mineral's Electric Eye Primer. This stuff was truly a godsend to me when I first tried it in January. I found that it works just as well as my previously loved Urban Decay's Primer Potion, minus all the inconvenience of crappy packaging and repeated issues with my primer drying out. The Electric Eye Primer contains .35 oz. of product (versus UD's Primer potion which is .34 oz. of product, retailing at $18). The Electric Eye Primer is flesh-colored, but applies transparent with very subtle shimmer and a satin finish. They shimmer isn't noticeable if you want to apply matte eyeshadows, which is great.

Now, about the only thing that initially irked me about the primer was that when I first received it, I was surprised at how little product there appeared to be in the tin. Comparing what was inside my tin with their product photo on the store, I had expected to see it filled to the rim. No worries though, you do get the amount of product you're paying for... and if you think it looks kind of skimped out, or if you're concerned it won't last you very long...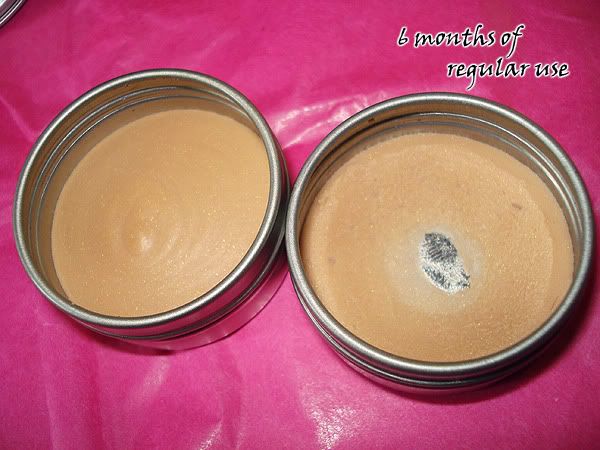 Here's my first tin of the primer compared to the new one I just bought. After 6 months of regular use (you just need the teeniest bit to prime your eyes!), I've just hit pan, and I've still got plenty left to use! I've had this tin opened and closed countless times, and there is not even the faintest sign that the primer has begun to dry up on me. Great, great product.

The eyeshadows are also formulated very nicely. I really like how pigmented and shimmery they are, and they're easy to blend and layer on with the electric eye primer. The photos on their website represent the colors fairly accurately, imo. For the blogger special, I received Vanity, Napalm, Smut and Kinky. The next 4 swatches are of colors I already have including Brat, the free sample color I received. Swatches were applied on top of NYX flesh-colored primer and photos taken in slightly overcast conditions outside.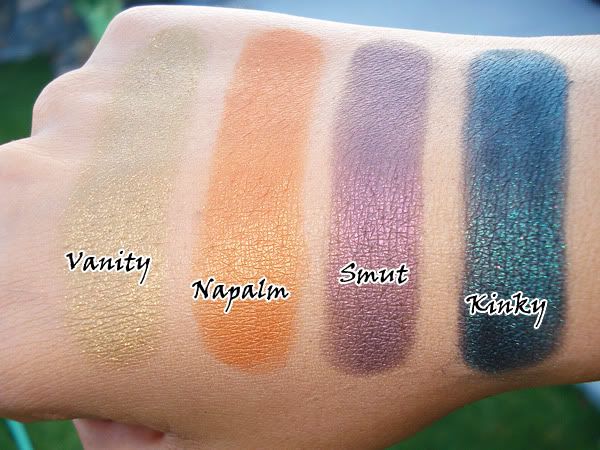 Vanity: This is one of their new shades! Glitzy, shimmery gold… not too warm-toned due to the silver sparkle. Vegan.
Napalm: Bright orange with orange/gold sparkles. Vegan.
Smut: Appears to have a dark grayish/silver base with pinky-purple undertones. You'll notice the base color more if you blend/rub it a bit more. Vegan.
Kinky: Another new shade! A dark, black-based teal with a plethora of different colored sparkles. Vegan.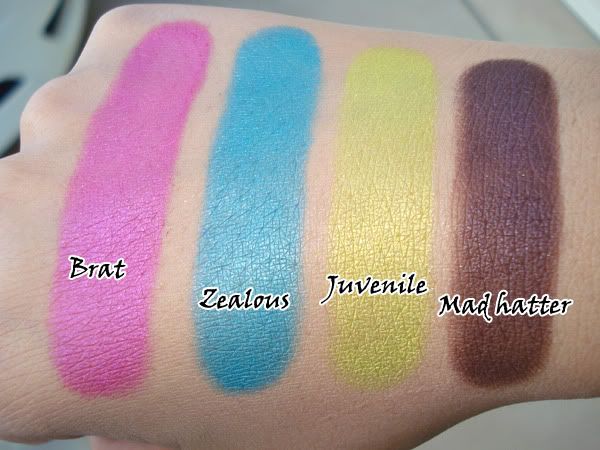 Brat: Bright as hell pink! Also one of their new shades, and vegan.
Zealous: Bright, shimmery blue/turquoise. Vegan.
Juvenile: Bright yellow-leaning-chartreuse with contrasting aqua sparkles. Definitely a unique take of one of my most favorite colors! Vegan.
Mad Hatter: This shade tends to look deep reddish brown to me (its described to be a reddish-purple), with red and green sparkle. Vegan.

Overall, I really like this brand and I enjoy their selection of shadows. Their shades are distinctly different from one another, and they don't have so many colors that you get overwhelmed with choices. They have a fun and trendy brand identity that really appeals to me also. However, I was a little concerned about the time it took to get my order processed and getting a response to my inquiry in a timely manner. Edit: Emily was kind to explain to me that they are not present at their office to respond to e-mails on the weekends, which is why it took a few days to get a response back. Considering this, their replies are prompt if you have inquiries or concerns about your order.