I've been kinda floundering around and trying out new indie cosmetic companies again. I still feel a bit off about not having a favorite go-to company to fulfill my sparkly-oriented needs like Aromaleigh used to, but that's because there's so many amazing new companies popping up!
Brazen Cosmetics
is a familiar name in the indie blogosphere. Part of their appeal to me is that Sandi, the owner, is so interactive with her customers on their Facebook page. I recently had the opportunity to sample two eyeshadows during a welcoming promotion offered to those that hadn't tried anything from Brazen yet, and I loved what I received! So much so, I went right to their Etsy shop and ordered a nifty package deal consisting of 5 random eyeshadows and 5 random lip gloss pots to start off my collection.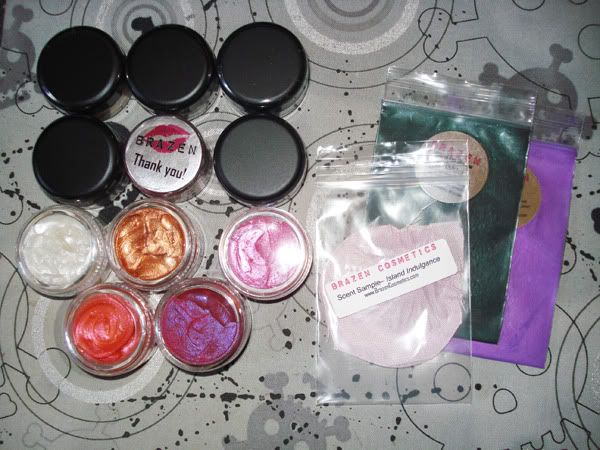 All the goodies! Now, on to the swatches: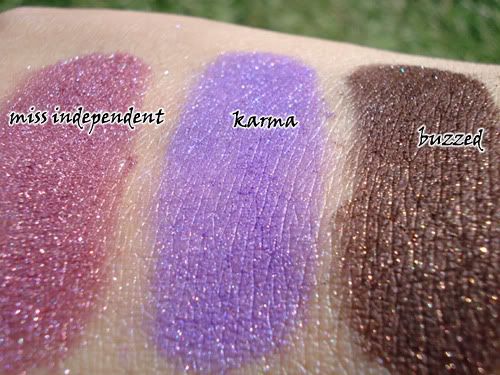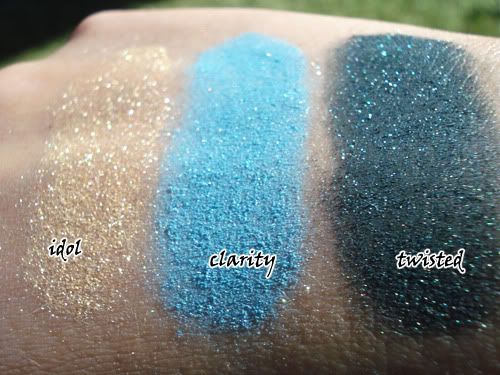 I was so happy to receive a full-size of

Karma

, the lovely purple shade.

Buzzed

has got to be the most beautiful deep, rich brown that I own now too.

Twisted

is also another favorite of mine, it's so opaque and complex with its black base and aqua sparkles. The jars come with sealed sifters, which is a total win in my book.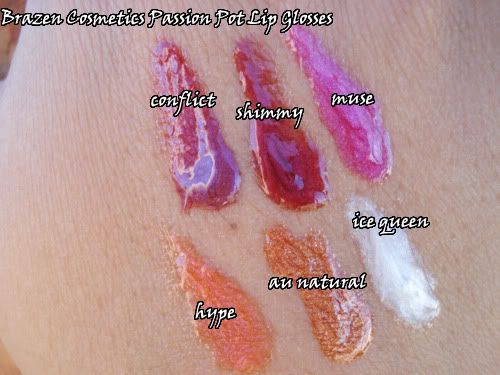 Now, I'm not a lippy-swatchy kind of person. I've never been crazy about lip products either, so one would wonder why I'd want to try out some random glosses. I don't know, I'm going through a weird phase, don't judge me! Anyway, while I find glosses in pots to be messy and cumbersome, these are amazingly well made to last. Burgundy or deeper berry shades like Conflict and Shimmy just don't compliment my super-tiny thin lips, but they are very beautiful.

Conflict

has this blue iridescence and

Shimmy

smells of rich chocolate. The ones I do enjoy wearing are

Snow Queen

(it's also minty, love!) and

Muse,

a bright opaque pink

. These little jars of awesome arrive shrink-wrapped and therefore, totally spill-proof during transit.

Shimmy appears to have been a gift with purchase which was totally sweet. I also received a sample of one of their scents called

Island Indulgence

on a fabric petal. It's pretty nice, and something I'd consider trying out because it didn't give me a splitting headache (most perfumes or scented things do, unfortunately).

I'm really looking forward to their official shop's grand opening! I also plan on doing a look with their products real soon to enter in their contest on Facebook for fun and whatnot. Y'know, assuming I don't totally botch it..