Sweeeet.
So I got more Tokidoki goodness to play with, and this particular one was a Valentines gift to me from my boyfriend. Behold the awesomeness of the
Tokidoki Brillante Glitter Eyeliner Set
!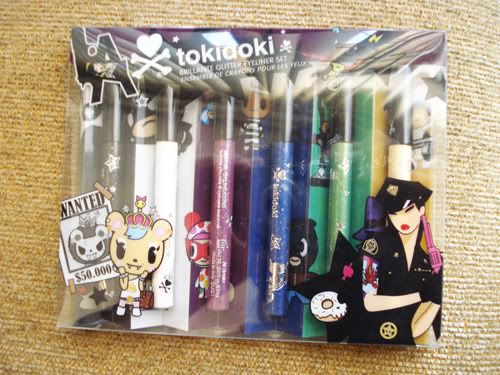 (Uuugh, horrible photo, I suck the arse at taking indoor pics. :/ )

The set comes in six glittery eyeshadow shades:

Melodia

(black with gold glitter),

Bianca

(white with silver glitter),

Al Dente

(purple with gold glitter),

Meteo

(blue with silver glitter),

SANDy

(green with gold glitter) and

Unicorno

(pale creamy gold with gold glitter). My descriptions are probably not sounding terribly interesting there, so I'll just let the swatches do the talking:

Indoor lighting: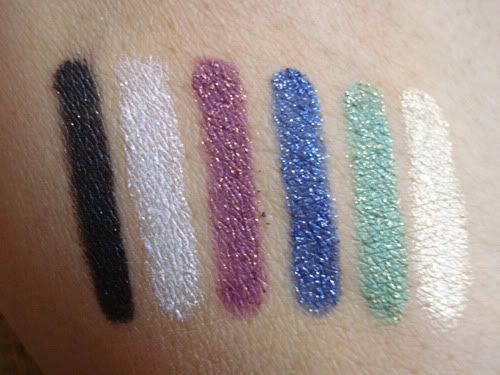 Indoors with flash: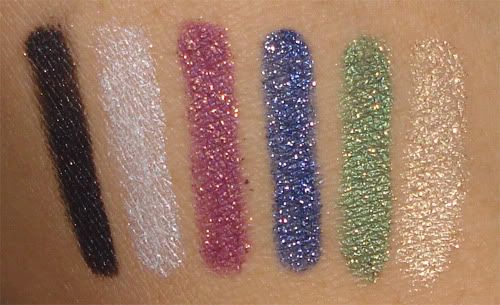 Here's a size comparison of the Tokidoki liners and the well-known Urban Decay 24/7 Eye Pencils on the far right--a mini-sized one like the type you'd get in a UD Book of Shadows palette (Electric-the bright blue one) and a full-sized one (Yeyo, the white one). They're a bit on the bitty side, haha.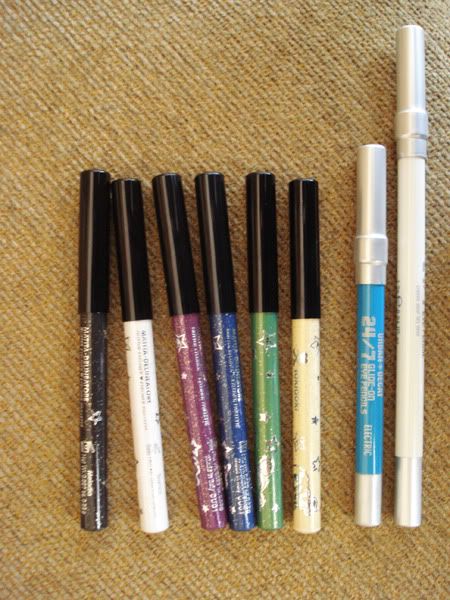 As for the quality of the Tokidoki eyeliners, they certainly feel grittier when applied to the skin compared to the 24/7 liners, but that's due to the glitter. So how well does it wear?

Well, after I swatched 'em, I also swatched two of my UD eye pencils on opposite sides then attempted to wash them off with soap and water. Here's the result of my silly attempt at removing these stubborn liners: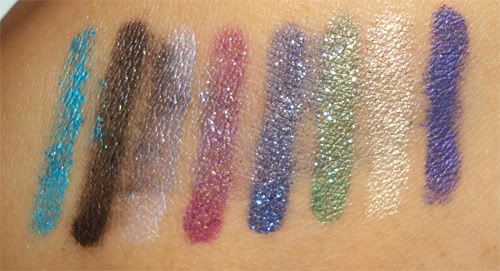 Decently smudge resistant if you ask me; they hold up about as well as the UD 24/7 eye pencils! I do enjoy wearing them on my lower lashline as they're fairly smudge and fade-resistant, but if you have sensitive eyes, the gritty texture is something to be cautionary of.

This set is available at Sephora for $25, a great deal if you're curious about trying out these fun and colorful liners!