I've been dyyyying to finally try these eyeshadows I got for my birthday over two weeks ago, but with classes, research projects, finals and the occasional meltdown plaguing me, I've had so little time to play. So despite being horribly stuffed up with the flu (what ISN'T wrong with me these days?),I went swatch happy as it was pretty and sun-shiney today.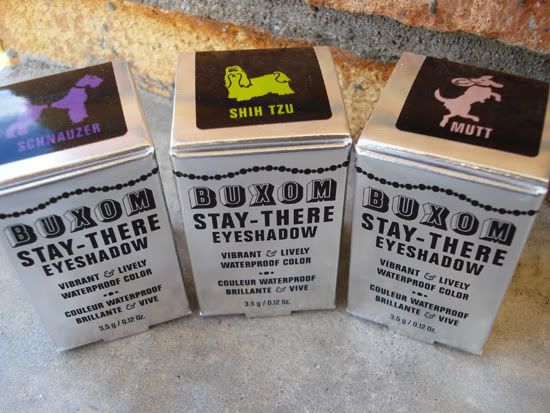 The Buxum Stay-There Eyeshadows boasts vibrant, lively, water-proof colors that don't smudge or crease (so they claim). These are just too cute to pass up with their adorable doggie theme--each color is represented by a different breed. I picked up

Schnauzer

,

Shih Tzu

(I must have mis-typed that about 5 times in a row) and

Mutt

.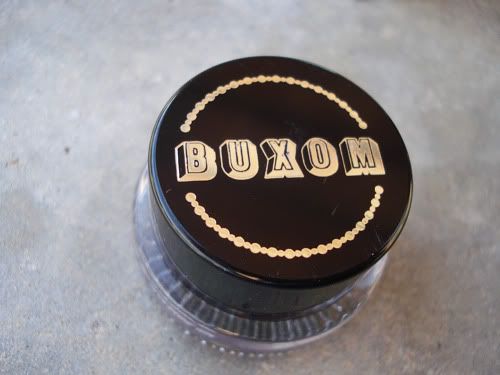 These cream eyeshadows are housed in a sturdy glass container with a secure screw-on top. They contain 3.5g of product.




Yes, they are cream eyeshadows. But what's AMAZING about them is their very unique texture--they feel like you're touching soft, spongy marshmellows. I've never experienced a texture quite like this from any eyeshadow I've tried before. They are extremely smooth and easy to apply.




Swatches! The shadows are shimmery and blend out smoothly, but take a little longer than I'd like to set before they become smudge resistant. I wore Mutt on top of a primer and it held well, but did eventually crease a little on me after 6+ hours of wear (which is typical with anything I wear really).

They're pricey for my budget, $17 each, but as they were a birthday present, my wallet has no complaints. ^^