So I've had a little more time to experiment with Hi-Fi's eyeshadow base/sealant, which is in many way similar to Fyrinnae's ever popular Pixie Epoxy. Both of these products are excellent at what they're meant to do--they keep those loose, sparkly eyeshadows locked onto your eyelids and looking extra vibrant.




Packaging



Hi-Fi's High Impact Shadow Fix comes in a 5.9 ml tube with a doe foot applicator. This is PLENTY of product considering the minuscule amounts you need to apply on your eyelids, so it'll definitely last a while. With Fyrinnae's Pixie Epoxy, you get 10 ml of product.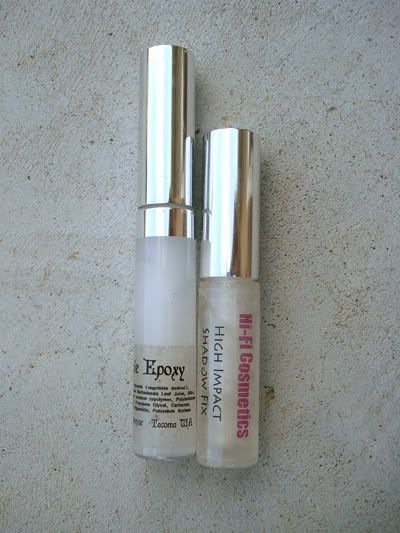 Texture



In comparison to Pixie Epoxy, Hi-Fi's Shadow Fix is just a little bit tackier and stickier, but still easy to apply.


Eyeshadow Application

Here I applied MAC's Soft Ochre Paintpot as a base, followed by Hi-Fi's High Impact Shadow Fix on the left and Fyrinnae's Pixie Epoxy on the right. The first swatch for each product was done by patting the eyeshadow on, and the second was done by swiping it. The last is a swatch of purple glitter, as I was testing out how well fine glitter stuck to both bases.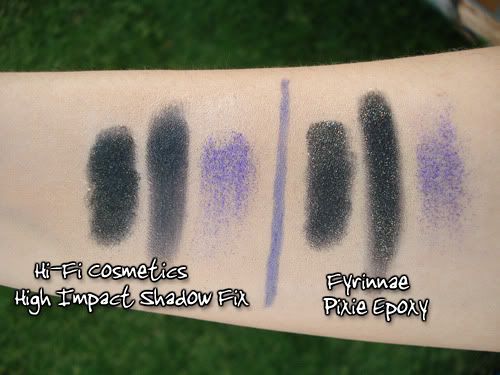 This is where Hi-Fi's Shadow Fix varies a bit with Pixie Epoxy. When applying eyeshadow on my lid (on in this example, my arm), I found that it's much more effective to pat the eyeshadow on versus swiping it across. I have a harder time swiping my eyeshadows on top of the Shadow Fix than I do with Pixie Epoxy, but that's because the eyeshadows stick so darn well to it. The only way they'll budge is if you smudge the Shadow Fix. If you'll notice, the shimmer dulls a bit if I swipe the eyeshadow over Hi-Fi's Shadow Fix.



Durability After Washing



So I thought I was done comparing, really. I started to wash my arm and... yeah, this.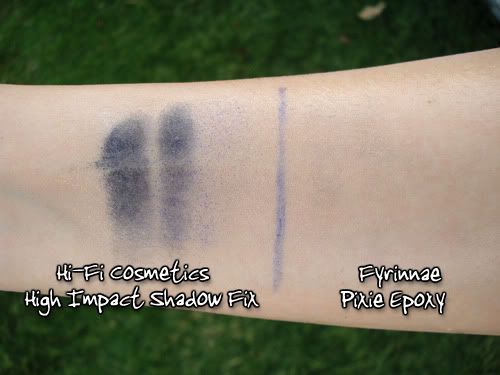 Eyeshadows really do stick to Hi-Fi's Shadow Fix! Generally, I have to take a little more time in applying my eyeshadows as they'll be a little tougher to blend out, but the general overall lasting effect is just as good as Fyrinnae's Pixie Epoxy.