I think I picked a great time to finally try out this indie cosmetics brand.
Hi-Fi Cosmetics
is currently having a sale up until May 23rd to promote their newest product line, the Rockstar Loose Eyeshadows. I went ahead and bought two of the Rockstar shadows and chose a tube of their High Impact Shadow Fix to get for free. How awesome is that? Anyway, here's the goods!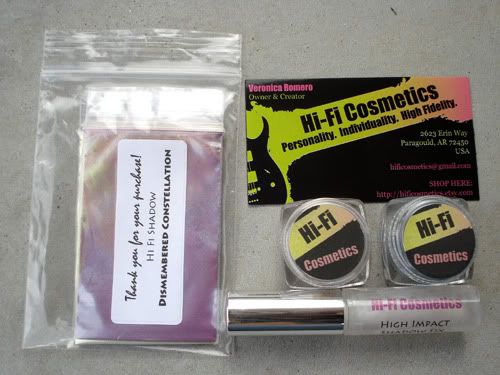 Hell yeah, you see those sample bags on the left? Four free samples wth my order.. how extremely generous! I love MMU companies that spoil customers with samples.

You know you wanna see swatches!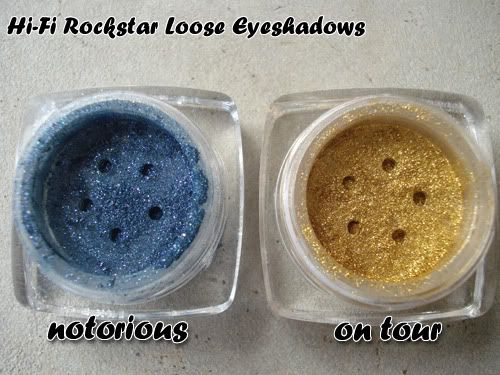 Really lovely colors... my god, that GOLD. The texture is a little different than what I usually expect--these shadows pack some serious glitter! Notorious has aqua and violet glitz that's absolutely beautiful in the sunlight.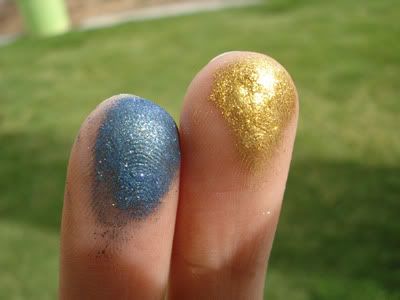 I'm curious to continue testing out the High Imact Shadow Fix and see how it compares to Fyrinnae's famed Pixie Epoxy. I did dabble with it a bit, and so far I can tell the texture is a bit different... other than that, I need more time to experiment.

Anyone else planning a Hi-Fi haul? ^^