I'm back! Forgive me for the unannounced hiatus (again), but all the preparations involved with graduation and applying to graduate school has taken a good chunk of my free time these days. This semester has been pretty challenging, but I can finally see the light at the end of the tunnel. I'm really psyched to graduate with my Bachleor's in Agricultural Biology and accepting an amazing award from my college the day before I graduate. ^-^
I discovered a really cute shop a while back on Etsy, called
Pink Bow Bath Botique
. Amy, the lovely owner, sells a variety of handmade bath and body products that all sport a signature pink, white and black label and a satin pink bow—very girly and cute! I was particularly interested in trying her scented body butter and whipped body frosting, and with scents like "Pink Passionfruit Lemonaide" and "Strawberry Velvet Cake", I couldn't resist making an order.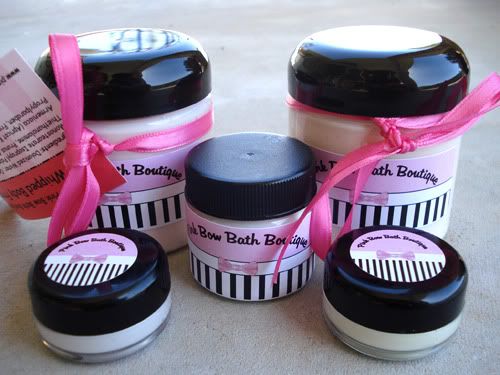 I placed my order in March, and got a full-sized (4 ounce) jar of body butter in "Nectarine Blossoms and Honey" and a whipped body frosting in "Pink Passionfruit Lemonaide". I also got a one ounce sized jar of "Pink Beach Bunny" whipped body frosting as a freebie for spending over $12 (she offers freebie promotions of her products monthly). Included with my order was two smaller sample jars, about a half-ounce sized sample of "Hawaiian Wedding" and "Pink Watermelon Sugar" whipped body frosting. Overall, I paid $18.95 including shipping. She ships super fast—I got my products in just 4-5 days.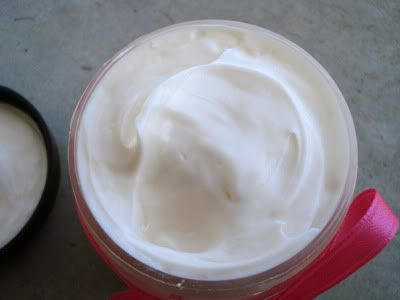 This is the first time I've tried a body butter or whipped frosting product, and I'm amazed by their thick and curiously fluffy texture and how rich and moisturizing the formula is. The finish is also completely non-greasy—my skin just absorbs this stuff! Now let me warn ya, I am NOT experienced with describing fragrances, and damn near all scented body products give me mild to severe headaches regardless if I love the scent or not. The scents I chose all suit my personal preferences—I like citrus and delicate fruity/flowery scents that are not overwhelmingly strong. Scents like lavender, cinnamon, and vanilla are ones I try to avoid because they just seem to linger for hours… anyway. Fragrance descriptions are easily found in the product descriptions; for the sake of not making this a tl;dr post, I won't be posting them here.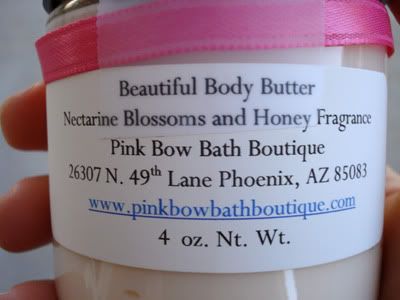 With the full size products, a card listing all the ingredients is included, which is extremely convenient and thoughtful (you can kinda see it still attached to one of the jars in the first photo). Honestly, I had a hard time distinguishing the texture of a "body butter" from a "whipped body frosting" until I looked at the cards. The difference, I guessed, is in the formulation. The body butters contain shea and cocoa butter while the whipped body frosting is enhanced with sweet almond oil and apricot kernel oil. The ingredient lists are also easily found under her product descriptions as well. The whipped body frostings do contain parabens in case you have any personal concerns about that ingredient.
Overall, I had a wonderful experience ordering from this shop! Has anyone else had an outstanding Etsy shopping experience lately?