Hoooly crap guys, what kind of cold bug were you all passing around?! I got sick as a dog last Sunday, haha. I'm still not over this cold, but I've finally gotten some of my energy back AND some quality free time to catch up with some things.
So first up, a FOTD from... two weeks ago, lol. It was friggin' windy outside. >_> I was kinda rushing my makeup like I always do before school, but here's a quickie of me wearing
Savage Garden
from Archetype. It's pretty amazing over Pixie Epoxy. It shifts between metallic-y blue, purple and green on me. Reaaally pretty.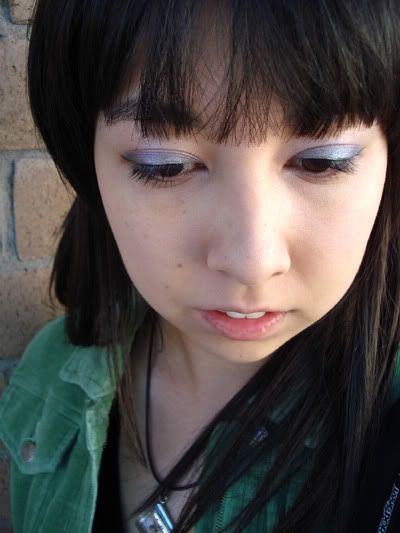 Next up, a FOTD for today! I wore a much more tame version of this for school (actually, I just did a shitty rushed version and ran out the door), but just did a quick touch-up and lined my eyes more strongly after I got home. I love wearing yellow and orange eyeshadow!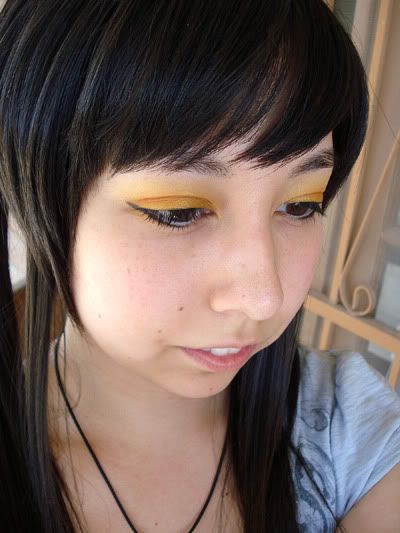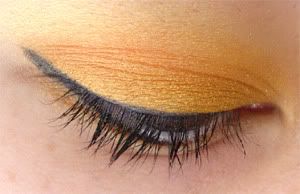 Eyes:
-
UDPP
(I finally bought a new one!)
-
Fyrinnae Pixie Epoxy
-
Fyrinnae Clorophyll
all over lid
-
Aromaleigh Bumblebee
to highlight
-
Aromaleigh Agentorange
blended very lightly in outer crease
- Black eyeshadow wetlined for eyeliner
- Touchups with Urban Decay's 24/7 eyeliner in
Zero
-
Prestige White eyeliner
to tightline
-
L'Oreal Voluminous Carbon Black Mascara
No foundation today. Haven't worn any in two weeks because something caused a bad reaction to my skin. :< I may have been over-buffing minerals into my cheek area I think, and my skin's super sensitive and prone to dryness there.
And last but not least, I got me some NYX. The haul was from some crazy sale they were having on their site for a bunch of stuff for a buck each.. I totally caved and grabbed a few things. :X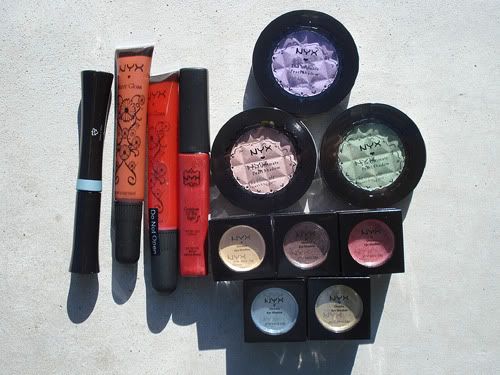 I like some things, others I don't. The lipglosses were the winners here, but I'll save my babbling about 'em for another day as a review or something. ^-^