Words cannot express the mixture of emotions I felt when I received my Archetype order in the mail yesterday afternoon.
Over five fucking months
after I ordered, it finally arrived. I had to restrain myself from pitching the package across the street.
Be forewarned, I am a woman scorned by this terrible, terrible company. This "review" is not going to be pretty, my dears (I will be dropping a few more F-bombs). No paying customer should
EVER
be treated this way.
Despite having heard of the 1-2 month processing time of
Archetype Cosmetics
, I placed an order for a large variety of samples from their site on September 4th, 2009. I reasoned with myself that the wait would be worth getting so many complex and beautiful shades at such a cheap price: .25 cents each!
That, right there, is the most ignorant decision I've made as a consumer. As time passed beyond my chance to file a Paypal dispute, I grew concerned and started doing a little research. Why I didn't do this BEFORE I ordered is a mistake I've never repeated since. This company has
HORRIBLE reviews
. Many unfortunate women never even got their orders, and those who did had to go through the trouble of contacting the owner, Holly, directly by phone and voicing complaints to get their order going. E-mailing the woman is utterly pointless--she will not respond.
Anyway, on to some photos I took. Let's have a gander on what I got, shall we?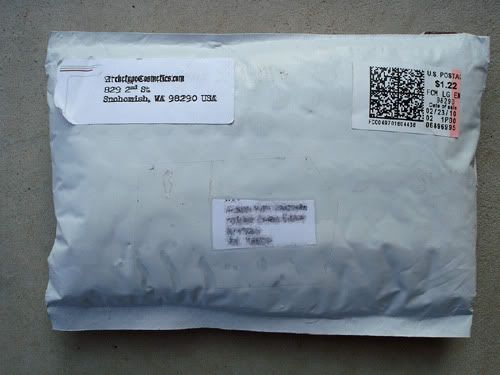 My order arrived in a bubble-mailer. Hm, I was charged $2.75 for shipping and according to that stamp on the right-handed corner, it cost $1.22.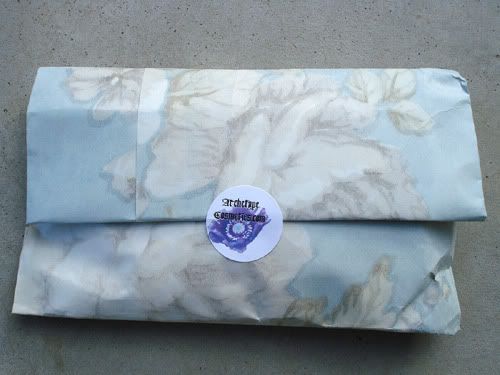 What the samples I got are packaged in. My invoice was also included (not pictured), and it has a printing date of October 20, 2009. Which I guess means they at least got to my order then, but decided to piss around and take their time packing it for the next four months.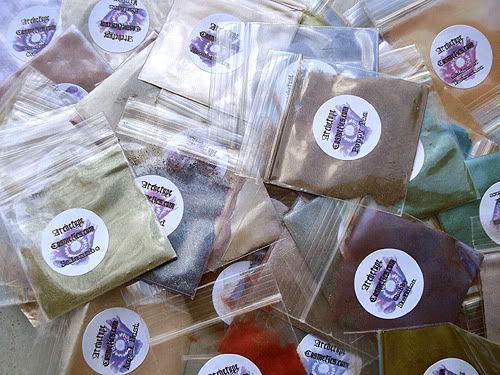 What the samples look like. I will admit, they are very lovely. I ordered around 70 of the little suckers. After checking them through with my invoice, it turns out I'm missing a color and got two of another one. Y'know, if they were gunna take this long to prepare my order, they could at least get it right. Hell, they could have at least also included extras as a courtesy (I've read of some customers who were able to get in contact with Holly, and after a direct complaint, got some full-sizes as extras) but nope, I got nada. Fuck 'em.
To conclude this horror story, I'm amazed I got my order at all. According to their site as of right now, they finally shipped all orders up to mid-February out. They also updated their FAQ page with new information on their shipping methods. They're supposedly getting their shit in order by having changed to a new shipping system this month. And joy of joys! Despite being HORRENDOUSLY behind on shipping orders, they somehow managed to find the time and energy to create an "Anti-Valentine" collection up for February!
For fuck's sake...
------------------------------
Tl;dr version
: Archetype Cosmetics and their customer service is shit-tier. Do not order from them unless you are a consumer-masochist and enjoy being treated like the dirt you tread on.