So here we are, swatches of some of my most favorite colors from Aromaleigh's Rocks! line. Aromaleigh Rocks! eyeshadows are some of the brightest you'll find in indie makeup. However, it's important to note that these shadows aren't made purely with natural minerals; in order to produce these vivid shades, organic dyes are incorporated into the formula.
Anyway, on to the swatches! And silly me, forgot to mention that these swatches are done dry and without a base.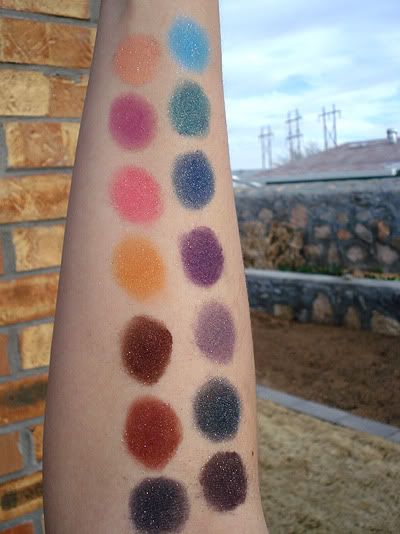 Group shot of all the colors I swatched. As you can see, it was a bit cloudy outside so these swatches aren't in full sunlight, but not in full shade either.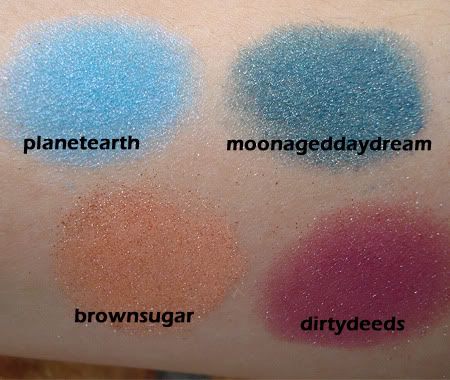 Planetearth
: subtly shimmering intense primary blue with pink sparkles
Moonagedaydream
: exquisite deep teal blue with gold shimmer
Brownsugar
: sugary sweet rosy brown with green and blue shimmers
Dirtydeeds
: deep burgundy red with opposing blue and green sparkle shimmer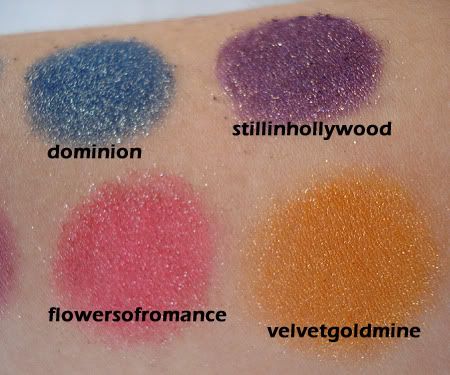 Dominion
: a spectacular indigo blue accented by dark gold glimmer
Stillinhollywood
: rich, dark amethyst purple with sparks of gold and copper throughout
Flowersofromance
: delicious rosy hue with a punch. Blue-green glitters
Velvetgoldmine
: terracotta redux with glam golden sparkles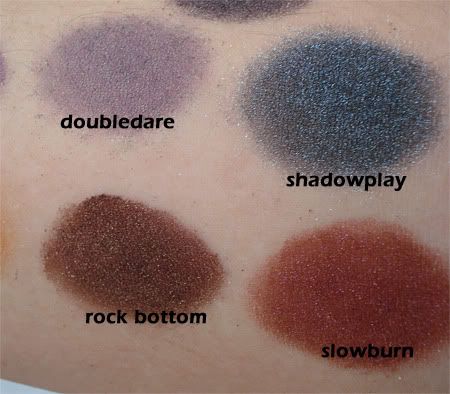 Doubledare
: deep greyed purple with intense green sparkles
Shadowplay
: teal green iridescent glitz fades to the blackest black
Rockbottom
: deepest darkest sinful brown with dark indigo blue sparks
Slowburn
: velvety rich chocolate with deep copper tones and purple sparks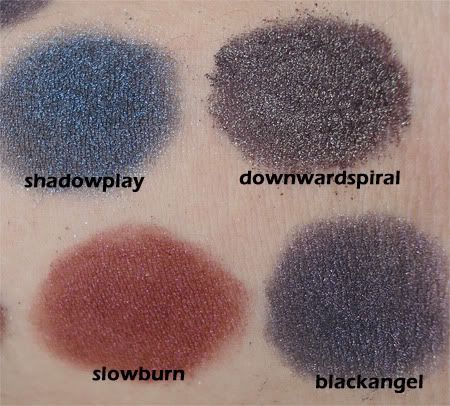 Downwardspiral
: deep dark burgundy with hot golden sparks
Blackangel
: midnight black... with innocent pink highlight sparkles
While the line carries plenty of vivid mattes with sparkle, I tend to gravitate to their more shimmery colors that possessed the unexpected contrasting sparkle. These are definitely worth checking out.