Sooooo, since Aromaleigh has their entire Sonic Rocks! line on a 35% off clearance sale (they're gunna reformulate the whole collection, woot!), I decided to do the one thing that eyeshadow junkies do best--I hauled.
And today, my order was waiting patiently in my mailbox. I ordered on the 15th, so it took only 4 days to arrive. Yup, they never cease to amaze me with their insanely fast shipping.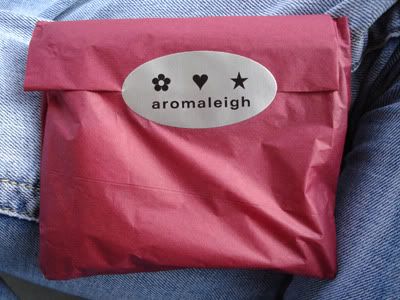 Standard Aromaleigh packaging. Every order I've ever recieved from them has been thoughtfully packaged this way, regardless of how big or small it was. You can always expect to find a lovely handwritten thank you in your invoice as well!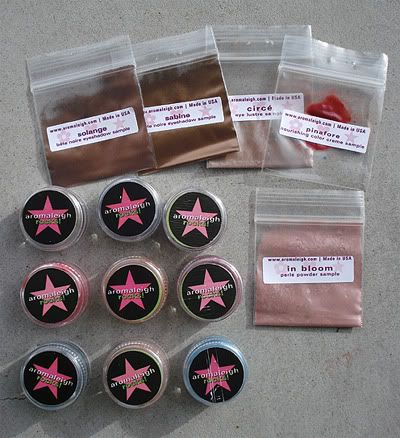 I got a total of 9 Rocks! eyeshadows (one was free with a coupon code). I also got a sample of Aromaleigh's illuminating perle powder called

In Bloom

. For my choice of 3 free eyeshadow samples, I got

Solange

and

Sabine

from the Bete Noire collection, and

Circe

, an eye lustre. The lippie sample you receive with every order is random.

Pinafore

is a nourishing color creme. It looks damn scary in the bag (to me at least), but the color actually applies sheer.

I don't always do a haul post, but think of it as a taste for things to come... ;D