I like mattes. I like--no,
LOVE
Aromaleigh.
But I don't know what the hell happened when I was getting ready for work today. Whipping through my set of
Aromaleigh Retro Hi-Fi Mattes
samples, I pulled out
Kookie
and concluded that I'd try a pink look today, paired with maybe Aromaleigh's Eggplant or Shadow Witch or some kind of deep purple...
I primed my lids with MAC Soft Ochre, patted on Kookie, described as "The girliest cool pink ever. Poodle skirts all the way." Girly cool pink? Gotcha!
I pat on the shadow across my lid with my brush, and as I begin to lightly blend I watched in silent horror as it transformed into a smooth cast of white.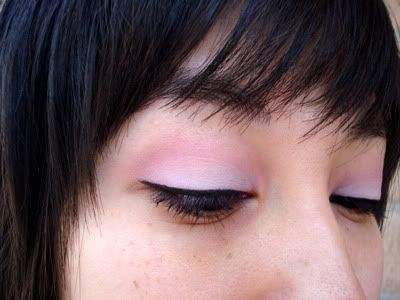 What the flip? What is this? Damn you Kookie, you promised me girly pink!

I had no idea what to do. I was gunna be late for work, so I threw on

Fyrinnae's Kitten in Heels

along my crease and blended into the white so I had a pink gradient going. So yeah, the pink you're seeing there is NOT Kookie.

I don't know what happened; does anyone else have this problem with the lighter colors in this collection? Or is my application method all wrong?