Hokie dokie, now this is something you won't see me do often, if ever again. Swatching lipsticks, haha. It's not that I don't like to, it's just that I never use any. But for the sake of having some (for god knows what event), I had bought some NYX Round Lipsticks a few months ago. They're super creamy, pigmented, CHEAP, and NYX has so many colors it's kind of mindboggling..
So here's my very (and I mean very) humble collection of lippies, swatched in shade AND in sunlight, ohsnap! From left to right:
Iris, Honey, Margarita
and
Doll
.
In shade: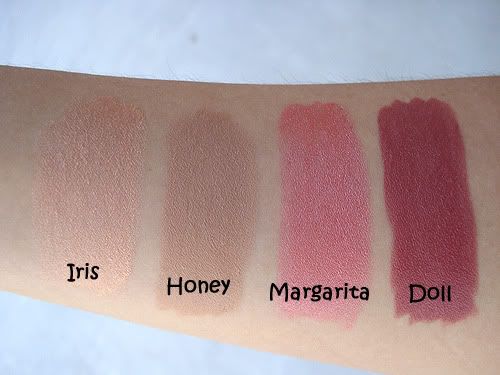 In sunlight: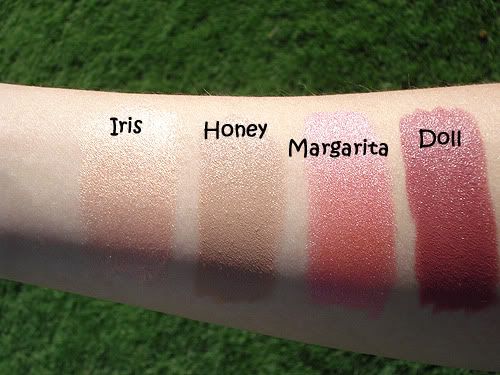 And purple lippies? They're a little harder to find, but they do indeed exist! Granted I'd never wear this color on my lips, but my mom's a total BA and somehow makes the color work on her (and she's over 60). That just goes to show you that purple lipstick can be pretty awesome if you know how to rock it! Below are swatches of two NYX Round Lipsticks in Eggplant and Medussa (I spelt it wrong in the first photo, go me!), and Stargazer Lipstick #133.

In shade: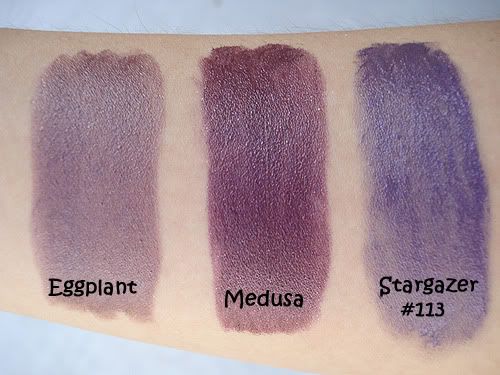 In sunlight: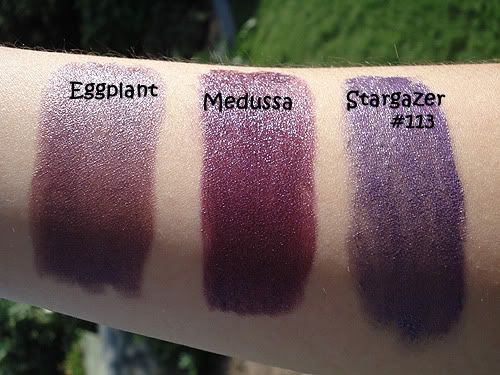 The Stargazer purple lippie makes me a little sad. First of all, it smells like old crayons. Secondly, it's formula is just not as creamy compared to the NYX brand and it just kinda smudged around on my arm when I was trying to swatch it. It's a pretty cool-toned purple color and it can be utilized effectively with some effort.. but ew. No likey.

Also, if anyone knows of a dupe lipstick shade of Lancome's Rouge Sensation lipstick in Damsel, do tell me! One of the main reasons I even give lippies a second glance-over is because I love hunting for new products to replace my dear mum's discontinued beauty products. It's a dark rosey-plum shade.. pretty hard to describe and I can't really supply a swatch. :<