My face of the day while braving the crazy stormy weather this morning. It stinks driving through a rain cloud in the mountains, haha. I don't usually do bright makeup unless I kinda have a feeling that my day isn't going to be so great.. and I was right.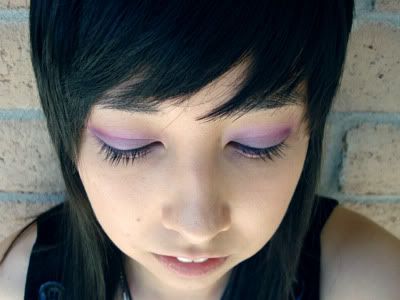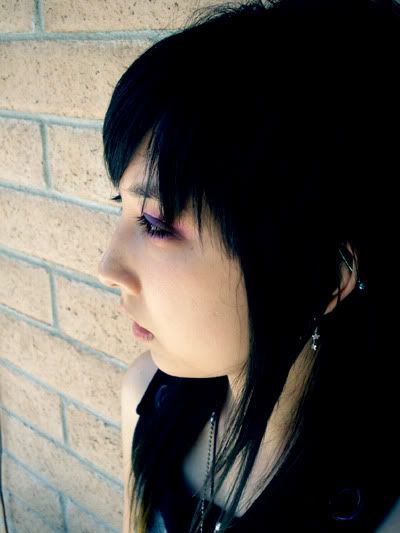 EYES:
-
UDPP
all over lid
-
Aromaleigh Alexandrite
on lid
- Light dusting of
TSS No Scruples
over Alexandrite (wanted a stronger purple, haha)
-
TSS Indulgent Appetite
above the lid, crease area
- Outer crease countouring using
Aromaleigh Rocks! Obsession
-
Urban Decay Fishnet
on corners and along lower eyelid
-
Aromaleigh Angel Wing
(iridescent pink) to blend, up to brow bone
-
Urban Decay Zero
lined on upper lid
-
L'Oreal Voluminous Carbon Black
Mascara

FACE:
-
Aromaleigh Glissade Foundation
(3WL)
-
MAC Fix + Spray
to set
-
Palladio Rice Powder in Translucent
(SMELLS LIKE GRANDMA'S PERFUME! T__T *chokes, dies*)
LIPS:
- Aah, frick. I'm not wearing anything on them atm. Dry and chappy lips ftw! :D
Also, I hate my hair. Got it cut the other day.. and at this rate, if I lose any more of the long lengths, I'm going to have a full-on
mullet
. *sigh* Looks alright still side-profile wise, I suppose. But now my head seems unnaturally long. D: Fuuuugh.